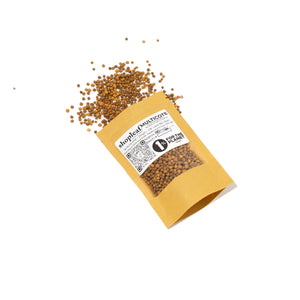 Multicote
Shopleaf Multicote is a slow-release plant nutrition product that delivers balanced nutrition to your plants over an extended period of time. It is made by Haifa Group, a world leader in the field of specialty plant nutrition products. Haifa Group sells a wide range of quality products in more than 100 countries through 17 subsidiaries spread throughout the world. Since its establishment in 1966, Haifa brand has been considered a symbol of quality and pioneering in the global agricultural industry.

Shopleaf Multicote contains a blend of essential nutrients, including nitrogen (N), phosphorus (P), potassium (K), and magnesium (Mg), as well as trace elements (ME) that are crucial for healthy plant growth. The composition is NPK 14-14-14 + 2MgO + ME.

Our unique formula allows for a controlled release of nutrients over several months, which provides sustained nourishment and eliminates the need for frequent application. With Shopleaf Multicote, you can rest assured that your plants are receiving the essential nutrients they need to thrive.

Please note that Shopleaf only repacks Haifa's product and distributes it to the retail market.

To use, simply sprinkle the product on top of the soil or mix it with your potting media. The recommended application rate is 1 teaspoon of product for every 4 liters of potting mix. The amount required may vary depending on the type of plant and pot size.

Please also note that this product should not be used on stressed plants and should be kept out of reach of children and pets. In case of accidental ingestion, seek medical attention immediately.

For best results, keep Shopleaf Multicote in a cool, dry place and close the resealable pouch when not in use. This will help preserve the quality of the product and ensure maximum shelf life.

Choose Shopleaf Multicote for a convenient, effective, and long-lasting solution to nourish your plants and promote healthy growth.
Adding product to your cart