Welcome to Shopleaf Plant Studio
We believe that every home or office can benefit from the beauty and benefits of indoor plants. Our shop is dedicated to offering a curated selection of high-quality plants that are well-suited to a range of indoor environments.
Whether you're a seasoned plant lover or just starting to explore the world of houseplants, we have a wide selection to choose from. We also offer a range of premium plant care products, such as potting mixes, fertilizers, and pots.
Taking care of your plants should be as easy and enjoyable as possible, and we're here to provide you with everything you need to keep your plants healthy and thriving.
🎄🌟 Unwrap the Magic of the Season with Our Festive Holiday Packaging! 🌟🎄
It's that time of year again! 🎁✨
We're thrilled to introduce our extra special Christmas and holiday packaging.
Whether you're treating yourself or gifting a touch of green to a friend, our holiday packaging adds that extra dash of cheer to your plants. All you have to do is add the holiday packaging listing to your cart, and we'll take care of the rest.
PLANTS IN LECA
We're excited to introduce our new collection of plants in LECA substrate! LECA, or Lightweight Expanded Clay Aggregate, is a fantastic choice for your green buddies. 
BROWSE COLLECTION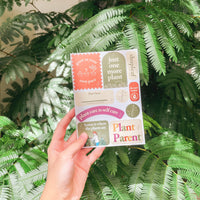 NEW! Shopleaf Sticker Pack 🌿
This sticker pack is your instant mood lifter. Stick 'em on your laptop, water bottle, or even your favorite plant pot – because plants make everything better, right?
Each pack has 10 cute stickers that scream plant love!
ADD TO CART
CHARMING TERRACOTTA PLANTER
These locally made pots are great for small starter plants as well as cacti and succulents. Explore the collection now!
BROWSE COLLECTION
A BREATH OF FRESH AIR
Transform your space with the verdant beauty of Suamei.
Delicate and captivating, Suamei flowers infuse the air with a delicate fragrance, while vibrant green foliage provides an elegant backdrop. Perfect for indoor or outdoor spaces, this tree's tranquil beauty invites contemplation and serenity, creating a calm ambiance.
SHOP SUAMEI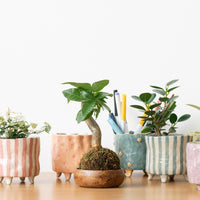 Living Art Moss Ball
Kokedama is a form of plant art that originated in Japan. Instead of the conventional pots or vases, kokedama plants are grown in beautiful crafty green balls made of moss. Kokedama, which means "moss ball", is a favourite among plant decoration enthusiasts who are also passionate about sustainability. 
The Japanese believed that the green ball of moss is a symbol of maternal love and charity. Its circular shape creates peacefulness and provides a zen spirit. It is also said that it eliminates negative energy from a space by absorbing them. Kokedama's aesthetic has the ability to help you wade off stress, which is an excellent benefit for the mind, body, and soul.
Shop Now
Many times copied, never matched
At Ecopots, we only want to produce pots of superior quality. This is why we have teamed up with Centexbel, a university plastics laboratory, for the development of truly durable plastics and we ask Bureau Veritas to test our products. Supervised by the Belgian Quality Association, all Ecopots are validated for recycled content and we achieve the quality standards defined by PolyCert Europe. Every year, our certifications are evaluated and renewed to guarantee the best quality.
Download 2023 Ecopots Catalogue
Unique handmade finish
All Ecopots have a unique, handmade finish, making each pot different. Our compound formula of recycled plastics and natural minerals makes the pot not only strong and durable, but also very light. Ecopots are UV resistant, break-proof and resistant to temperature fluctuations, ideal for both indoor and outdoor use. They have a unique natural look and feel, making Ecopots the go-to brand for everybody looking to combine timeless design and durability.
Visit Official Ecopots Europe Website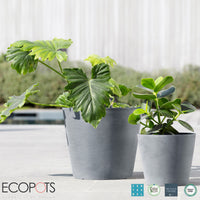 Lifetime guarantee!
A pot or planter has to accompany your plant for many years to come. That is why at Ecopots we demand the highest quality and only work with materials that guarantee a long-lasting durability. Every Ecopots product comes with a lifetime guarantee on breakages and production faults.
Read Ecopots Detailed Composition
The first brand in flowerpots with a CO2 neutral label
Being a durable brand we like to take things a step further and reduce our ecological footprint even more. In November 2020 we were the first brand in flower pots and planters to receive both the CO2 Neutral Product and the CO2 Neutral Company certificate. This certificate guarantees our calculation, reduction and compensation of our local and global impact. The certificate can only be obtained through serious climate efforts and is validated by Vincotte. Through the CO2Logic programme we support three amazing climate projects. More info about these projects: www.ecopots.eu/about-ecopots.
View Ecopots CO2 Neutral Certificate
What our customers say about us
The plant I received was even better from what I saw in the website. I'm very satisfied. Packaging and delivery very impressive.

Paola R.
Plants from Shopleaf came super nice and lovingly wrapped with protection and instructions. The unwrapping/unboxing of the plants honestly added to the excitement and joy of ordering from Shopleaf aside from the smooth experience of ordering from the website, and the super accommodating owners. Hands down one of the best plant shops here in Manila.

Ramil E.
Shopleaf ensures each plant received by its clients are healthy and stable. In the rare instance that a client receives an unhealthy plant, Shopleaf makes it a point to make amends and replace it with a new plant free of charge. Client happiness and satisfaction are obviously a priority with Shopleaf!

Jill D.
Just want to say how impressed I am by your service! I ordered just one potted plant bc I haven't had a lot of luck w on line plant sellers before and now I regret not buying more! It was quick and efficient. But more than that, the plant is very healthy, the eco pot is simple and nicely colored, and the packaging for delivery is so professional! The custom made box, the moist towel on the soil, and the care instructions written specific to my plant were all additional touches that left an impression. I hope you keep up this level of service and delivery!

Camilla B.
Thank you for the great service and quality product, Shopleaf! Great Job! My brother was so happy with this gift. Plant is lush and healthy, Ecopot is light and pretty, and everything arrived in excellent condition. I will definitely order again and will recommend Shopleaf to my friends.

Theresa M.
5 stars always with Shopleaf! I am always assured of healthy plants, sturdy packaging and prompt delivery.

Charito V.
I always feel giddy with excitement unwrapping my order from Shopleaf. My adansonii has unfurled 7 new leaves since I got them. :)

Cynthia M.
I've been buying Ecopots and it was my first time to buy plants from Shopleaf as recommended by a friend. It didn't disappoint, both plants came healthy and they were gorgeous! :) Looking forward to purchasing more plants (and Ecopots) from Shopleaf!

Sharleen C.
This is my first purchased and all i can say is wow! You went the extra mile for your goods! From the delivery to the presentation even to the small details like the tape you used and how you wrap the plants. The tape is not all over the plant like the others. The leaves are all shiny and healthy! Will definitely buy more babies from you! Thank you!

Vince D.