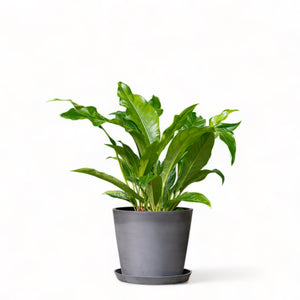 Anthurium Jungle Bush (L) in Ecopots
Sale price

₱2,600.00

Sale
Plant Name
Anthurium Jungle Bush
Characterized by its majestic and lush green foliage, this statement plant is surprisingly very easy to care for. Just water thoroughly when the top inch of its potting medium is dry. With proper care, it will reward you with huge, shiny leaves. 
Plant Size
Over 2 ft

Every plant is unique and can therefore differ from the plant shown on the photo.
Ecopots Amsterdam 30
Pot (Diameter x Height)

: 12" x 10" (30cm x 25cm)
Saucer 

(Diameter x Height): 

11.5" x 1" (29cm x 2.5cm)
Saucer included
Volume: 12.8L (3.4gal)
100% recycled materials
Every Ecopots uses up to 80% recycled plastic which are collected from the ocean.
These pots are durable and their designs are timeless, so they will last you a long time, lessening environmental impact. 
To know more about Ecopots™ click this link. 
Adding product to your cart